Check out kartSTART presented by Toyota.  
SUMMER FUN FOR AGES 10 and older!    
ENJOY a 25% SAVINGS        DISCOUNT CODE: KARTINGNEWS
kartSTART presented by Toyota travels to 10 stops in Canada during the summer months. The tour typically starts in British Columbia in late June and ends up in Halifax at the end of August. The half-day course is available to youngsters and teens and their families.  (Schedule here)
Karting News Worldwide and Racing News Worldwide readers can take advantage of  DISCOUNT CODE: KARTINGNEWS to enjoy a special price of $59, a 25% savings on all event passes & gift certificates.  (gift cards and clothing are not eligible) www.kartSTART.ca
Along with Toyota Canada, we believe in putting safety first.  The kids of today are the drivers of tomorrow and we want to make sure they have a great foundation in the basics of safe driving.
"We put together a great group of personnel to help our families get the most out of the day," kartSTART owner Russ Bond says. "Every journey starts with a first step; our job is to make sure that our families' first step is in the right direction."
GIFT CERTIFICATES are available making gift giving easy. Choose from Birthday, Graduation, or All Occasion styles.  The download is emailed to you immediately after purchase and can be printed for in person gifting or emailing to the recipient.
New this year are EVENING EVENTS in Winnipeg & Hamilton to make it easier for working parents to attend with their kids. As well, our secure and easy checkout solves your payment concerns.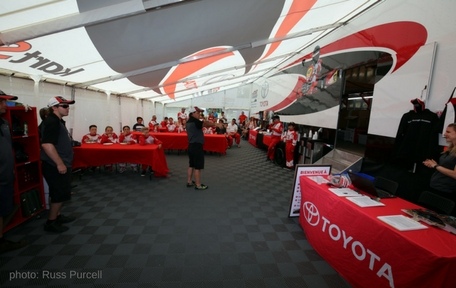 "The kartSTART program is unique in several ways," says Russ "The key is we teach youngsters in vehicles that fit them: our go karts. What we teach here is how a vehicle works. What makes it go, what makes it stop, and what makes it turn.  We teach our students what is happening to the vehicle as they drive down the road."
The program was born to fulfill parents' need to give their kids some driving instruction before they turn 16 and head out in a car.  Our karts are the perfect size for kids to get their first experience. It doesn't weigh 3,000 pounds. It is a basic motorized vehicle that is proportionate to the size of the driver. We show them how the kart works and then we put them in the karts with our instructors leading them around the track. They learn about how the steering works, how the throttle works, how the brakes work, and more importantly, they understand how all these things work together.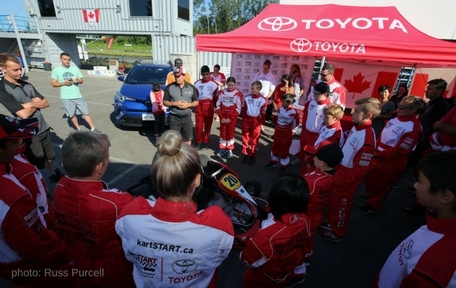 Adults are also encouraged to participate in the karting sessions.  This is an ideal summer activity for the whole family. At every session, a light meal is provided for everyone in attendance. Spectators are welcome.
BOOK NOW to avoid disappointment at www.kartSTART.ca
We can't wait to see you this summer!
Don't forget to use Discount Code:  KARTINGNEWS