EKN Trackside: 2017 Superkarts! USA Pro Tour SpringNationals – Preview Part 3
Pro categories set for another great battle in the west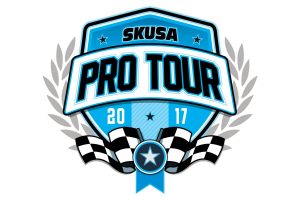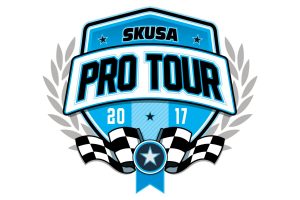 The 2017 is a new era for the Superkarts! USA Pro Tour. The launch of the new WinterNationals event to expand the championship program to six rounds of racing spanned over three events, along with event adjustments highlight many changes the organization has made to transition into the future. The SKUSA Pro Tour has put itself on the pedestal as the premier championship series in North America, with many more improvements on the to-do list now into the eighth season.
The 2017 edition of the SpringNationals, set for May 5-7, takes the organization and its racers back to where it all began in Sonoma, California. In April 2010, the SKUSA Pro Tour launched at the Jim Russell International Karting Center with just over 100 entries. Fast forward seven years, and SKUSA returns to the now-branded Simraceway Performance Karting Center with 230 pre-entries to take on the 7/10-mile course. The 12-turn circuit in the counter-clockwise direction is among the most raceable tracks in North America. Off-camber corners, fast straights, and of course the Tic-Tac-Toe section make this a driver's track, and one that will produce some exciting racing over the SpringNationals weekend.
eKartingNews is bringing all the action live to anyone and everyone with a laptop or mobile device. Bookmark www.ekartingnews.com/live and listen in to the live play-by-play provided by the official voice of SKUSA – EKN's own Rob Howden. Updates, photos and videos will be available throughout the weekend on the EKN social media outlets – Facebook, Twitter and Instagram.
---
S1 Pro Stock Honda
The inaugural SKUSA Pro Tour WinterNationals was certainly a historic weekend for the series and the organization, and the S1 division made sure that it would be one to remember. A phenomenal battle on Sunday has been proclaimed by many as one of the best S1 main events in the history of the series. Numerous lead changes with clean but aggressive maneuvers highlighted the battle.
The event was won by Hunter Pickett (Aluminos), who topped a stout field to score his first ever SKUSA Pro Tour victory. Also earning his first S1 Pro Tour triumph in NOLA was DKC / Sodi Kart driver Jake French, who left NOLA as the championship leader. The SKUSA #2 plate holder placed first and second on the weekend, establishing a 62-point advantage that he will bring to the SpringNationals. French's lead challenger is three-time California ProKart Challenge champion Billy Musgrave. The MRC / Aluminos pilot secured fast time in qualifying both days in New Orleans, and then was the runner-up on Saturday before contact in Sunday's main event took him out of contention.
On the strength of his Sunday triumph, Pickett finds himself down in fifth for the championship chase after a challenging Saturday round of racing. 2016 double SummerNationals winner AJ Myers (TB Kart USA) sits third in the standings, has he reached the podium on Sunday with a third-place result. S1 rookie Mathias Ramirez (Andersen / Birel ART) was in contention throughout the weekend, slipping on Sunday late in the race to miss out on the victory and the podium. He was incredibly impressive in his class debut and should be a factor all year long.
It was an up-and-down weekend for two high-profile drivers. 2016 SKUSA Pro Tour champion Daniel Formal was among the top guys all weekend long. Formal placed third in Round One and was provisionally second on Sunday until he was removed for the day following tech inspection. This glitch has put the defending champ and EKN Driver Rankings #1 pilot behind in the title chase. The SpringNationals also marks the debut of Formal's new partnership with Champion Racing / Intrepid. Three-time SuperNationals winner Gary Carlton (LEM / Formula K) made his return to the Pro Tour at the WinterNationals and the NorCal native emerged on Sunday to join the fight for the lead. As we saw in the CBS Sports Network broadcast, a slight error cost him the race. Carlton is set to return home at Simraceway and will be focused on bagging his first win of the year.
Nic LeDuc and Ron White also call the Sonoma circuit 'home'. LeDuc is among the list of SKUSA veterans who live in NorCal, and he is set to pilot a Sodi Kart this weekend under the Cambrian Go-Karts banner. White is a long-time CRG pilot, racing with his own team. It's possible that the veteran has the most laps at the circuit out of any driver at the SpringNationals, and we can expect him to be among the top contenders on the weekend. There is also talk of former SuperNationals winner Jonathan Thonon entering the event, and while he is not on the official entry list, it is rumored that the Belgian will be competing with VCI / GP operation.
Provisional S1 Pro Stock Honda Entry List
| No. | Driver | Team | Chassis | Hometown |
| --- | --- | --- | --- | --- |
| 50y | Gary Carlton | Leading Edge Motorsports (LEM) | Formula K | Marysville CA |
| N1 | Danny Formal | Champion Racing | Intrepid | Costa Rica |
| N2 | Jake French | Dallas Karting Complex (DKC) / SodiKart USA | Sodi Kart | Sachse TX |
| 23k | Kolton Griffin | Pure Karting | Tony Kart | Phoenix AZ |
| 22y | Brian Keck | Keck Racing | CRG | Sacramento CA |
| 435y | Hunter Kelly | Italcorse America | Italcorse | Elk Grove CA |
| 21y | Nic LeDuc | Cambrian Go-Karts | Sodi Kart | Novato CA |
| 322c | Billy Musgrave | Musgrave Racing Company (MRC) | Aluminos | Norco CA |
| 128f | Aj Myers | TB Kart USA | TB Kart | Palm Harbor FL |
| 36y | Hunter Pickett | Pickett Racing | Aluminos | Alamo CA |
| 88c | Matias Podboj | Mad Old Nut Racing | Mad-Croc | Eastvale CA |
| 41f | Mathias Ramirez | Andersen Racing | Birel ART | Palmetto FL |
| 71y | Ron White | Ron White Racing | CRG | San Jose CA |
| 1 | Austin Wilkins | Dallas Karting Complex (DKC) / SodiKart USA | Sodi Kart | Wylie TX |
---
X30 Senior
With the Pro Tour again hitting big numbers, there is another sold out field for the popular X30 Senior division at the SpringNationals. Forty-four drivers will take to the race track when official practice begins on Friday, all vying to leave as a winner in SKUSA's return to the Sonoma facility. Back in 2010, former Indy 500 Rookie of the Year and SKUSA Pro Tour champion Phil Giebler doubled up at the inaugural SpringNationals. This year, the driver or drivers who can come away from this weekend with victory could use it toward their chance at a title of their own.
Two drivers left the inaugural WinterNationals as winners, putting themselves in early contention for the prestigious SKUSA Pro Tour championship. 2014 SKUSA Pro Tour champion and last year's SuperNationals winner Jake Craig (RPM / Tony Kart) added to his CV with the win in Round One. Second-year Senior driver Zach Holden (Comet / Tony Kart) has karting positioned as a second focus in 2017, as he is running in the F1600 Championship Series on the East Coast. Holden triumphed in Round Two at NOLA for his first Pro Tour win, and he's also coming off a pair of F1600 wins at Virginia International Raceway last weekend. Holden has lots of confidence and momentum. That said, the competitor who left NOLA with the championship lead is Red Bull Global RallyCross driver Christian Brooks. The California native won both Prefinals and placed runner-up in both main events to establish himself as the top points earner. The Nash Motorsportz / FA Kart driver will look to extend or maintain his championship lead this weekend, however, Brooks is keeping his focus on the GRC commitments, and will be sitting out the rest of the Pro Tour. Taking this fact into consideration, Jake Craig – the current EKN Driver Rankings #1 pilot – would be unofficially at the 'top' of the championship chase ahead of Holden by 41 points.
Throughout the WinterNationals weekend, Brandon Jarsocrak and Ryan Norberg were among the top challengers. Jarsocrak posted the fast time in qualifying on Saturday before a technical issue forced his delay onto the track for the start of the Prefinal. He drove from the tail of the field in that race to mid-pack, and then up to the podium in the main event. The KartSport North America / Praga driver followed it up with another third-place performance to put himself third in the standings. Defending SKUSA Pro Tour champion Norberg had the target on him throughout the weekend, carrying the SKUSA #1 plate. The PSL / Birel ART driver placed inside the top-five both days to help start off his title defense with some solid footing. Both Jarsocrak and Norberg will need to step up over the SpringNationals to help cut into the advantage that Craig currently holds.
Braden Eves became a first-time winner at the 2016 SKUSA SpringNationals in Phoenix, and is looking for a return to the podium. Eves is making the move over to the Vemme Kart this weekend under the MDD banner. 2016 SKUSA Pro Tour Junior champion Alex Bertagnoli (Franklin / Merlin) showed speed in New Orleans, coming away with a top-five finish. The Senior rookie made zero laps of racing on Sunday following contact at the start of both races, and is looking to bounce back in Sonoma.
Others to watch include drivers from the Rolison Performance Group contingent, such as Canadian brothers Cedrik and Samuel Lupien, who sit inside the top-10 of the standings. Former SKUSA Junior champion Luke Selliken and Canadian Kellen Ritter both have success at Sonoma, and could be factors on the weekend. Brendan Baker (CRG Nordam) is a California native with previous success at the Simraceway circuit, along with Nicky Hays (FW / CompKart), who won the California ProKart Challenge event last year at the facility.
Provisional X30 Senior Entry List
  Birel ARTMonterey CA  Tony KartBrooklin ON
No.
Driver
Team
Chassis
Hometown
303q
Kyle Apuzzo
J3 Competition
CompKart
North Scituate RI
224y
Michael Avansino
Kartspeed Motorsports / VRP Racing
Tony Kart
Pleasant Hill CA
316t
Brenden Baker
CRG Nordam
CRG
Celina TX
1
Alex Bertagnoli
Merlin USA / Franklin Motorsports
Merlin
Lakewood IL
274t
Nick Brueckner
Orsolon Racing
Tony Kart
Hockley TX
371z
Mason Buck
BBR Karting
PDB
Newcastle WA
60c
Jake Craig
JC Racing / Ryan Perry Motorpsort (RPM)
Tony Kart
Mission Viejo CA
993r
Logan Cusson
Rolison Performance Group (RPG)
Kosmic
Port Hope ON
022a
Mateo Delgado
Aluminos
GP
Peru
6y
Phillippe Denes
115y
Colby DuBato
PKS Kart Supplies
Tony Kart
Madera CA
310z
Kyle Dupell
BBR Karting
FA Kart
Salem OR
41j
Braden Eves
Jay Howards MDD
Vemme Kart
Gahanna OH
309y
Dominic Giansiracusa
Cambrian GoKarts
Birel ART
San Jose CA
315z
Jacob Gulick
Rolison Performance Group (RPG)
Kosmic
Vancouver WA
151c
Nicky Hays
Formula Works
CompKart
Huntington Beach CA
3t
Max Hewitt
J3 Competition
CompKart
Houston TX
222j
Zach Holden
Comet Kart Sales
Tony Kart
Greenfield IN
32t
David Ilavia
J3 Competition
CompKart
Houston TX
N2
Brandon Jarsocrak
KartSport North America
Praga
Reading PA
14y
Worawong Komarakul
Leading Edge Motorsports (LEM)
Praga
San Francisco CA
098a
Marjin Kremers
PSL Karting
Birel ART
Netherlands
006t
Ryan C. Lewis
Alpha Kart / Dos Amigos Motorsportz
Alpha Kart
Cedar Park TX
020r
Cedrik Lupien
Rolison Performance Group (RPG)
Kosmic
Mascouche QC
94r
Samuel Lupien
Rolison Performance Group (RPG)
Kosmic
Mascouche QC
416r
Ryan MacDermid
228y
Alejandro Marquez
Kartspeed Motorsports / VRP Racing
Tony Kart
Sunnyvale CA
969c
Calder McWhinney
Formula Works
CompKart
Huntington Beach CA
144a
Gustavo Michelsen
BBR Karting
Tony Kart
Peru
382t
Brett Mitchell
Iron Rock Motorsports
Tony Kart
Spring TX
72y
Colin Mullan
VRP Racing/Kartspeed Motorsports
Tony Kart
Danville CA
2c
Billy Musgrave
Musgrave Racing Company (MRC)
Mad-Croc
Norco CA
22z
Stepanova Nekeel
Team VemmeKart
Vemme Kart
Seattle WA
N1
Ryan Norberg
PSL Karting
Birel ART
Orlando FL
204t
Nathan Ratton
Team Koene USA
Tony Kart
Rockwall TX
399r
Kellen Ritter
Rolison Performance Group (RPG)
Kosmic
N. Vancouver BC
103z
Luke Selliken
Rolison Performance Group (RPG)
Kosmic
Portland OR
387t
Kasimir Sinnott
Team Koene USA
Tony Kart
Southlake TX
326z
Adam Smalley
SmaK Plastics Racing
Kosmic
Battle Ground WA
55j
Lane Vacala
J3 Competition
CompKart
Antioch IL
188t
Jake Venberg
Merlin USA / Franklin Motorsports
Merlin
Dallas TX
814c
Aidan Yoder
Doran Motorsports Group
Top Kart
San Gabriel CA
044x
Dante Yu
J3 Competition
CompKart
Temple City CA
---
S2 Semi-Pro Stock Honda
Two S2 drivers stood out during the WinterNationals – Riley Dickinson and Colin Daley. Throughout the weekend, it appeared that Daley (DRT / DR Kart) was the driver to beat. The Jamaican missed out on the victory on Saturday because of a mechanical failure, but he bounced back on Sunday to sweep the day. Saturday was left open for Texan Riley Dickinson (DKC / Sodi Kart) to drive to his first SKUSA Pro Tour victory. As a result of placing second to Daley on Sunday, Dickinson holds the championship lead heading into Sonoma. Just behind him is Canadian Gianfranco Mazzaferro (PSL / Birel ART). The WinterNats was his S2 debut, placing runner-up in Round One and fourth in Round Two. These consistent results put him just 40 points back of Dickinson for the class lead. Daley is third, however, he is not attending the SpringNationals. The other podium finisher set to compete in Sonoma is Kyle Wick. The RPG / CRG driver is expected to be among those in contention this weekend once again.
Andretta Young (DKC / Sodi Kart) was a new face toward the front of the S2 field at NOLA, placing a solid fifth in Round Two. Kol Bailey has made the move to Leading Edge Motorsports / Praga, with the Arizona driver ready to compete at the team's home circuit. Others to watch include recent California ProKart Challenge winner Jason Pettit (Aluminos) and Rory van der Steur (Kosmic), who is looking to bounce back from a tough WinterNationals that included two DNFs.
S2 Semi-Pro Stock Honda Entry List
| No. | Driver | Team | Chassis | Hometown |
| --- | --- | --- | --- | --- |
| 86k | Kol Bailey | Leading Edge Motorsports (LEM) | Praga | Peoria AZ |
| 48c | Gianfranco Casadei | Mad Old Nut Racing | Mad-Croc | Eastvale CA |
| 065o | Bryce Cornet | Champion Racing | Intrepid | Norman OK |
| 253t | Riley Dickinson | Dallas Karting Complex (DKC) / SodiKart USA | Sodi Kart | New Braunfels TX |
| 7x | Josh Early | Musgrave Racing Company (MRC) | Aluminos | Perris CA |
| 007t | Sky Finley | Dallas Karting Complex (DKC) / SodiKart USA | Sodi Kart | Frisco TX |
| 526o | Tyler Fling | Champion Racing | Intrepid | Decatur GA |
| 27t | Blair Hosie | DAMZ / Alpha Kart USA | Alpha Kart | Sugar Land TX |
| 318j | Ryan Lankenau | Energy Kart USA | Energy | Warrenville IL |
| 23a | Hadrien Le Flanchec | Mad Old Nut Racing | Mad-Croc | France |
| 76j | Darin Marcus | Ryan Perry Motorsports (RPM) | Tony Kart | Chicago IL |
| 414r | Gianfranco Mazzaferro | PSL Karting | Birel ART | St. Bruno QC |
| 125c | Garrett McKelvie | Musgrave Racing Company (MRC) | Sodi Kart | Temecula CA |
| 146y | Jason Pettit | Aluminos | Aluminos | Walnut Creek CA |
| 332y | Richard Stock | Pantera Parts / Polymer Plastics | TB Kart | Carson City NV |
| 29n | Rory van der Steur | Team Felon | Kosmic | Chesapeake City MD |
| 109z | Kyle Wick | Rolison Performance Group (RPG) | CRG | Auburn WA |
| 3t | Andretta Young | Dallas Karting Complex (DKC) / SodiKart USA | Sodi Kart | Katy TX |
Source : ekarting.com