JAK CRAWFORD EXCELS AT INTERNATIONAL RACING IN EUROPE
"Crawford announces new Energy Kart USA relationship"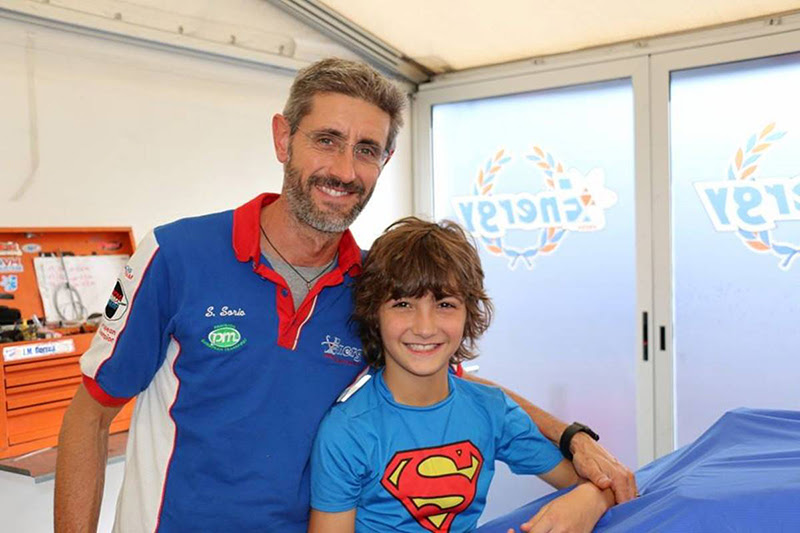 Jak Crawford is all smiles with his mechanic Simone Sorio at the ROK International Final (Photo: Nikki Crawford)
October 21, 2015 – Jak Crawford's first racing events out of the country have proved to be a major success. Returning this week from a two week racing venture at the South Garda Karting facility in Lonata, Italy, Crawford's reputation as a top, young karting driver and big, future racing star have been solidified. This time the impression has been made to an audience that was represented by every continent on the planet and against nearly 120 cadet competitors.
The first week saw nearly 100 drivers race the Bridgestone Cup. Jak, a 10 year old racer, excelled near the front of the field all week long and took a top ten finish in the A main race after starting on the last row due to a crash in the prefinal race. The following week at the Rok Cup International Final event with even more cadet drivers present than the week before, Jak executed an even bigger and better encore performance.
The Rok Cup International event was mired with rain, dry, and partly wet track conditions then changing sometimes from session to session. Regardless of the conditions, "Jetpak" Jak was always at or near the top of the time charts. When the results mattered, Crawford qualified second, missing the pole position by a scant four one hundredths of a second. After winning one of the heat races, starting P4 and driving his way through a tough prefinal race, Jak would qualify and start the A main final race from inside row four in the seventh position.
For the main event
on Saturday
, Jak worked his way up to third with three laps to go and by the last corner he was contending for second. With the lead trio battling hard, Crawford missed a first place result by a fraction of a second. For his age and inexperience at the South Garda track, as compared to the large number of Italian drivers in the field, Jak was able to highlight his extraordinary driving talents and the performance of the Energy chassis.
Jetpak Jak looks forward to his exciting remaining 2015 schedule including racing two huge races in Las Vegas and an event in Portugal. For the upcoming US Open of Las Vegas, Jak will start a new formal racing chapter with Energy Kart USA by fielding a 1010 chassis for his Rotax Mini Max powerplant.  Jak will be competing for the US Open championship and enters the event as the current point's leader.
"Jak's USA relationship with Energy Kart USA has been set and we will continue to work with Mick Panigada to solidify European racing opportunities," added Jak's father Tim. He goes on to say, "Mick's commitment to winning is the same as ours and we have found a good home at Energy Corse for Euro-racing as we attempt to refine Jak's racing skills and impress new people."
Jak wishes to thank OMP, Energy Corse, Palmetto MDR, Nash Motorsportz, Precision Works Racing Engines, and Chris Hatfield for all their help and support.